in Ukraine
Ambulance for the cityhospital No.3 in Ukraine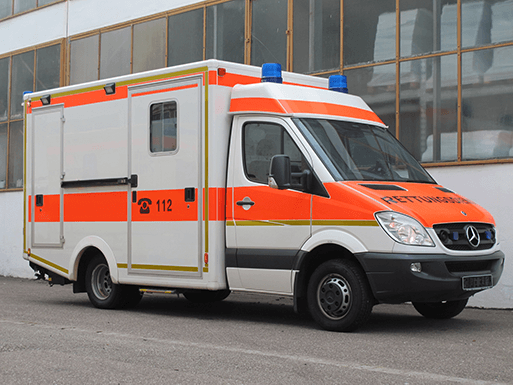 Do you want to literally save lives? here is your opportunity!
The operations team of our partner hospital "Chernigov City Hospital No.3" is in the Chernihiv region of Ukraine works around the clock for its fellow citizens. In order to be able to do its crutially important job, it needs the appropriate tools. The hospital lacks a real ambulance to reach people in need, and we want to change this situation with your help. For this reason, we have started this fundraising to co-finance a used ambulance from Germany. Unfortunately, we can not afford a new vehicle, which costs more than € 100,000. Therefore, we are looking for a used one, for wich approximately 9500 Euro will be needed.
After careful research and evaluation of 14 different variants, we have decided for a Mercedes-Benz Sprinter 516 CDI RTW case with LBW (see below for complete information).
The acquisition costs of the ambulance are: 9200 EUR
Export papers cost 30 euros and export license plates for 15 days cost about 200 euros for 30 days.
Please Help US!
About us:
"Sustainable Development Community eV" is a non-profit organization in Stuttgart, Germany, which is involved in the field of sustainable development cooperation worldwide, with the aim of improving the quality of life of disadvantaged people, especially children and women, in a socio-economic, socio-ecological and environmental economic way Situation in the areas of our projects sustainably positive change.
About our partner hospital:
The Chernihiv City Hospital No.3 began on July 3, 1983 as an infirmary of the Chernihivv Radio Appliance Plant. The four-story polyclinic built in the factory was converted into a 120-bed hospital (60 neurological, 60 therapeutic).
At this time, the number of medical workers was 22 physicians and 54 middle medical staff. In 1990, a dental department, a dental laboratory and a children's hospital were opened.
Today the City Hospital №3 is a multidisciplinary, modern medical and preventive facility equipped with modern medical equipment.
The Surgical, Neurological, Gynecological and Anaesthesiology and Intensive Care Departments as well as Radioisotope Diagnostics, Bacteriological Chain Reaction and Polymerase Chain Examination laboratories provide medical care to Chernihiov thousands of residents.
Over 25 years, 192210 patients were treated in hospital, 18352 surgical procedures, 28125 gynecological examinations, 357221 functional examinations, 337148 ultrasound examinations, 39257 endoscopic examinations, and 25000 radiology examinations were done.
The hospital currently employs 83 doctors, 241 medical staff, 142 young medical staff and 101 support staff.
About the ambulance:
Technical specifications
Category ambulance
Mileage 200,000 km
Displacement 2,143 cm³
Power 120 kW (163 hp)
Fuel: Diesel
Number of seats 2
Sliding door sliding door right
Transmission: Manual
Emission class Euro5
Environmental badge: 4 (Green)
First registration 04 / 2010
Year of construction 2010
Permissible gross weight5,000 kg
HU 04 / 2019
Air conditioning (air conditioning
Park assist
Color (manufacturer) pure white
Color white
Width 2,240 mm
Height2,860 mm
domestic equipments
SECTION
ESP
Liftgate
particulate Filter
Maintenance Guide
Power steering
heater
central locking system
vehicle description
VIN: WDB9061531N441198.
Sprinter RTW box with tail lift for heavy patients. The ambulance is in good condition. German vehicle with all documents and 2x keys.
Additional equipment:
Airbag front passenger side, Exhaust rear axle left, Outside temperature indicator, Generator 180 A, Head airbag system (Windowbag), Driver's / passenger side head-shoulder airbag (thoraxbag), Parameterisable special module, Interior rear view mirror, Front mudflap, Rear stabilizer stabilizer, Stabilizer reinforced front, fuel gauge for auxiliary heating, front axle reinforced
Further equipment:
Adaptive brake light, Driver's side airbag, Display for wash water level, Outside mirror electr. adjustable and heated, both, outside mirror with integrated indicator, battery 74 Ah, brake assist, brake system with ABS + ASR, roof lining in the cab, lockable glove box, body / construction: flatbed, fuel tank: main tank 75 ltr., headlamp leveling, truck registration, Engine 2.1 ltr. – 120 kW CDI KAT, Wheelbase 3665 mm, Smoker package, Tire repair kit with compressor, Low emission according to Euro 5 emission standard, Seat cover / upholstery: Lima fabric, Service interval display Assyst, Heat protection glazing, Perm. Total weight 5.00 t, twin tires on 2nd axle / rear axle
We and our partner hospital rely on your support!
Thank you for your donation!