In Ukraine
"INTEGRATION" – STRONG SPIRIT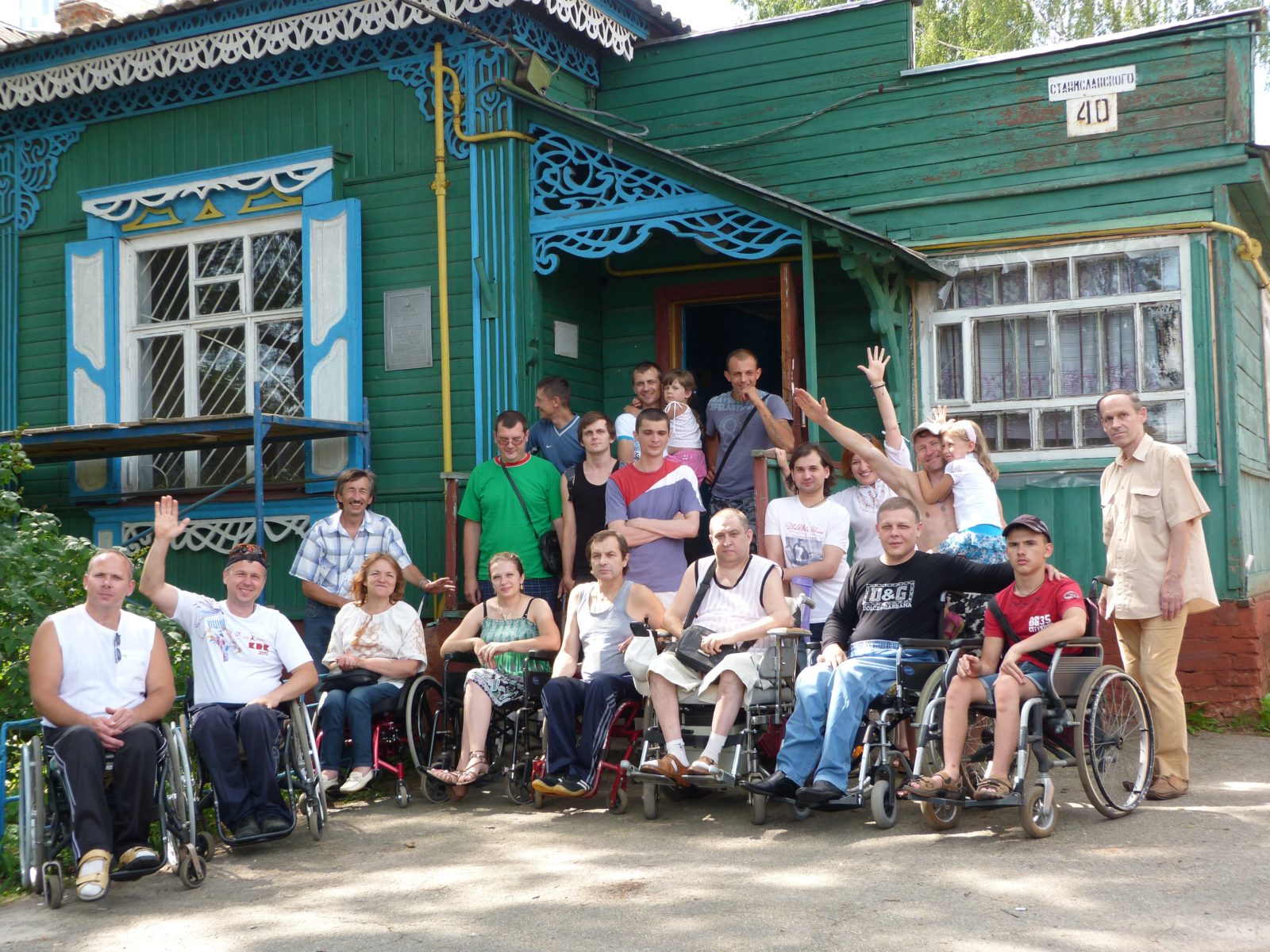 The NGO Integration was established in 2013 by people on wheelchairs in order to involve people with disabilities in active life, provide them with physical and medical rehabilitation, and also to enable them to rehabilitate and lead a healthy lifestyle.
In 2013, the organization received a building and began to independently carry out a project to create a unique complex rehabilitation center.
Totally there are 12500 wheelchair person at Chernihiv oblast.
The wooden building with clay walls,  build in 1890's, was in an emergency when received by the organization.
Two crash reports that the building needs to be repaired have already been made. After the third report the building, which is actually an architectural monument, would have been demolished.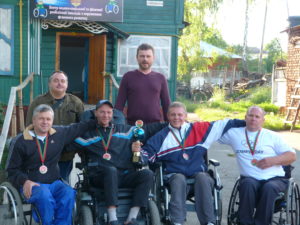 The only chance to save the house was to start its major repairs and restoration.
However, we realized that no one will help us to do that except ourselves. And we took up the matter.
All vital systems of the building were out of order, or were already in an emergency:
the gas boiler cracked, the heating system was out of order, radiator batteries were broken;
windows and floor rotten, toilet was in emergency condition; mold and fungus were on the walls, roof has leaked.
And what was the most important – there was not even a hint of wheelchair accessibility of the premises (high thresholds, emergency condition of the floor etc).
But the members of the NGO Integration have strong spirit! Supported by friends, relatives and just not indifferent people we took up the difficulty of restoring the building.
Each member of the organization contributed to the matter: people in wheelchairs were knocking and breaking down the old stonework on the porch, others were laying a new one, a person with cerebral palsy painted walls.
In 4 years of hard and exhausting work, NGO Integration has replaced and installed newsystems:
a new electrical wiring was laid on an area of ​​more than 400 sq.m inside and 480 sq.m. outside;
the heating system has been restored: a new solid fuel boiler and 27 energy-saving radiators have been installed;
19 new windows were installed;
a new floor was arranged without thresholds and barriers (at first 10 cm of timber was laid down (totally 18 m 3), and then the wooden boards);
an oak ramp was made for unobstructed access of people on wheelchairs to the house;
all the walls and ceiling (about 800 sq. m.) were newly plastered with clay, since it was damaged by mold;
wheelchair accessible toilet room with handrails, comfortable for disabled people bath, spacious shower cabin were equipped;
the volunteers built a new fence: first the foundation was poured, then they knocked down the wooden shields and decorated them with a curly thread carved by electric jigsaws.
NGO Integration also won the program from the National Assembly of the Disabled of Ukraine, owing to which a Mottomed simulator was purchased for independent (without a rehabilitologist) exercising of wheelchaired people and disabled.
During 4 years we worked effectively and did everything we could to make the Center start functioning as a result.
THE OPENING OF "INTEGRATION"
On August 18, 2017, the Center officially opened, and people with disabilities from all over the region finally received the opportunity of rehabilitation.
The first results were astonishing:the guy who did not walk for 7 years, after 6 months of training on our training equipment began to walk independently! And then he conquered the Carpathian mountains, having descended to Hoverla.
THE SPORT ACTIVITY OF "INTEGRATION"
The NGO Integration team participates both in national and international competitions.
For three consecutive years we have been conducting an all-Ukrainian sports competition "Strong in spirit" for people with disabilities.
This year the competition engaged 52 participants.
Also, the NGO Integration team constantly takes part in the organization of city and regional championships in such famous games as the bocce, the marathon on wheelchairs, checkers.
Some members of the organization constantly go to international marathons (e.g. Sergey Shuruta is the participant of more than 20 marathons) and sports festivals, as well as participate in all-Ukrainian competitions.
CARING FOR ORPHANS
For 4.5 years, our organization cares for a  orphanage in Gorodnya Town (Chernihiv oblast).
4-5 times a year NGO Integration brings the orphanage  pupils on a bus for different excursions: to the Hollywood Mall (Chernihiv), to have fun in the children's entertaining room; to the amusement park; for the New Year's celebrations which are annually held on the main city square; to the horse yard, where children can ride horses, engage in archery; we also cook and eat all together the traditional gruel called "kulesh".
All activities of the organization are non-lucrative and non-profit, all the services and procedures in the Center are free of charge, rehabilitologists exercise with people for free.
NEEDS OF NGO INTEGRATION
A lot has been achieved for 4 years, but there are still a number of unresolved, but extremely important issues.
Roof repair.We have repaired the interior, but the roof of the house is in an emergency. The estimated cost of solving the problem is 12-14 thousand Euros.
Specialized transport for wheelchair users transportation. To solve this problem it is enough to buy a secondhand minibus with an elongated base, which can be refitted in order to accommodate 5-6 wheelchairs.
Rehabilitation and training apparatus: such as a bench for powerlifting and armreslings, a barbell with a bench, a special cabin for rehabilitation (stretching, special massages)
Active wheelchairs:the most convenient for disabled are wheelchairs of such brands as Kuschall, Meyra, Panthera.
Special chairs:for a shower (with a metal base); for boarding the plane.
The team of "Integration" proved that only together we will be able to achieve the goal and overcome any obstacles, because the world is not without good people.
Together we are STRONG SPIRIT!
Documents: